Featuring the hit Arcade titles that made the industry resonate in the 80's and 90's,
AS WELL AS contemporary entries with state of the art design,
AUTOCADES Core Game offerings will have kids of all ages enjoying endless Arcade Action!
Games for Every Age, included with Every Party.
Super Smash Bros. Ultimate
Autocades' standard arcade party package packs a serious punch! Our X-MEN VS. STREET FIGHTER machine features here with head to head fighting action features Wolverine, Cyclops, Rogue and Magneto of the Marvel X-Men universe duking it out with Ryu, Chun Li, and Akuma in no holds barred tag team fighting action!
Looking for even more super hero action? Jump on our 4 player CAPTAIN AMERICA AND THE AVENGERS arcade machine! Take up Cap's shield and lead the invincible Iron Man, Hawkeye, and Vision and defend the world. When your done with that adventure the same machine houses the legendary X-Men Arcade game where you choose from six of Xavier's mightiest mutants to take down Magneto!
Charge forth with the sword swinging heroes of GOLDEN AXE in even more 4 player simultaneous action and look to tear down the villainous reign of Death Adder. You and three friends can all join forces at once as you take on the barbarian hordes!
Return to the high scoring intensity of early 80's gaming
Chomp pellets and ghosts with PAC-MAN and SUPER PAC-MAN,
or rocket off and blast the alien hordes in DEFENDER and GALAGA.
These early 80's classics will test your wits and your reflexes as hard as ever!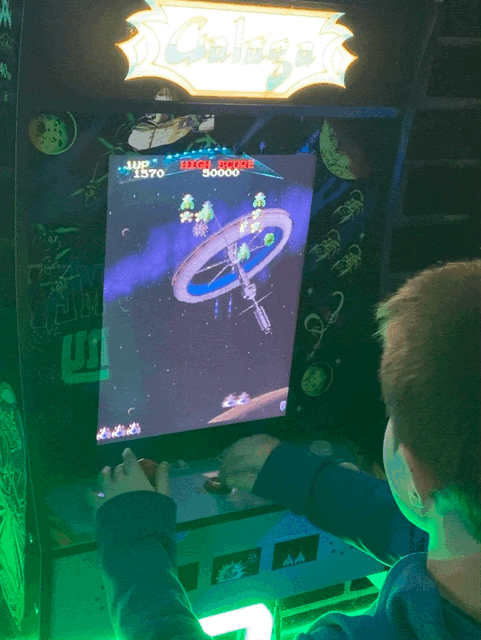 Face hordes of undead zombies and other night creatures in "THE BEAST", our monstrous HOUSE OF THE DEAD machine! Featuring both the House of the Dead 2 & 3 arcade classics along with the House of the Dead Overkill, this machine impresses with a 27 inch monitor, two realistic feeling pistol controllers, and enhanced sound system to really put you in the middle of the zombie blasting action!
Protect the future? No problemo.
Two players can team up and blast their way through TERMINATOR 2 (T2), protecting John Connor and the future of mankind against the T-1000. Fire at will and tell the machines Hasta La Vista Baby!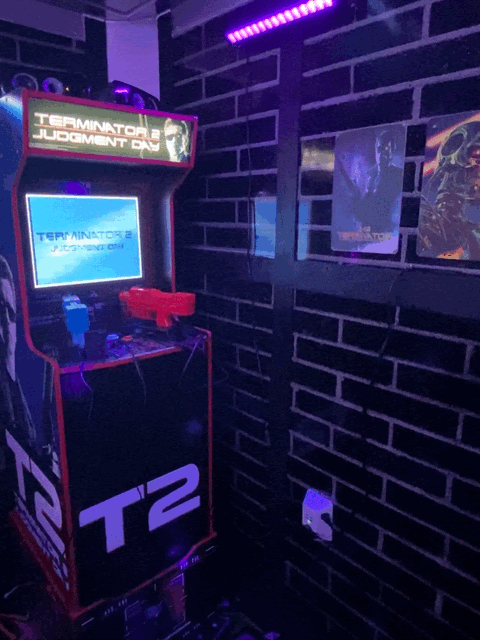 Tired of fisticuffs and blasting badguys? Jump on one of our two VIRTUAL PINBALL cabinets and take your scoring levels to new heights in either the Star Wars or Marvel universes, knocking that signature silver ball around a video pinball setting dedicated to the various characters and adventures you know and love, like Darth Vader, Han Solo, Spider-Man, Wolverine, and Thor!
Young and old gamers can choose their favorite video game icons and duke it out gladiator style on our CUSTOM ONE OF A KIND SUPER SMASH BROTHERS ULTIMATE ARCADE MACHINE!! Powered by a Nintendo Switch and housing one of contemporary gaming's greatest titles, Mario, Luigi, Link, Sonic, Pac Man, Mega Man, Pikachu, over 30 characters are at your beck and call to pit against one another for bragging rights in the arcade.
Truly a full arcade in disguise unto itself, the one of a kind AUTOCADES MULTICADE is powered by a Nintendo Switch, and houses a broad variety of games from various eras. Take a revitalized journey back to one of the original gaming classics with SPACE INVADERS FOREVER. Bash and brawl with giant robots in ARMORED WARRIORS and NINJA WARRIORS. And youngsters will revel at the chance to play a contemporary masterpiece in a new way with MARIO KART 8 DELUXE. Over 50 titles are presently available on the Autocades Multicade, including Mortal Kombat 11, Paw Patrol, Final Fight, King of Dragons, Knights of the Round, and many more!
Our NINTENDO ENTERTAINMENT SYSTEM multicade is a work of wonder and was personally designed by the Autocades team as a throwback to the hey day of arguably the most popular home video game console of all time. One arcade cabinet with over 140 classic NES titles available from such iconic franchises as Donkey Kong, Super Mario Brothers, Metroid, Contra, Ninja Gaiden, Tetris, Double Dragon, Mega Man, Castlevania, and more!!
Take the controls of your X-Wing Fighter and lay siege to the Empire's planet destroying Death Star in the original Atari STAR WARS: THE ARCADE GAME. Iconic vector graphics and an authentic feeling flight control puts you right in the Death Star trenches ready to fire the shot heard round the universe!
Take to the streets of New York and take it to the evil Shredder and the footclan with the
TEENAGE MUTANT NINJA TURTLES!
The 4 Player simultaneous beat-em-up action never stops with the Heroes in a Halfshell as you slice, smash and ninja kick the badguys back to the shadows and save New York City and the world!
Robots, and Ninjas, and Werewolves, oh my!
The head to head action continues with KILLER INSTINCT, an iconic 90's fighting game with some of the most varied and creative characters to go toe to claw with each other. Femme fatales, heavy weight boxers, ice creatures, and an undead skeleton pirate all battle for supremacy in this epitome of 90's one on one fighting style. And as a bonus, the legendary BATTLETOADS star in their arcade game outing as well on this magnificent machine!